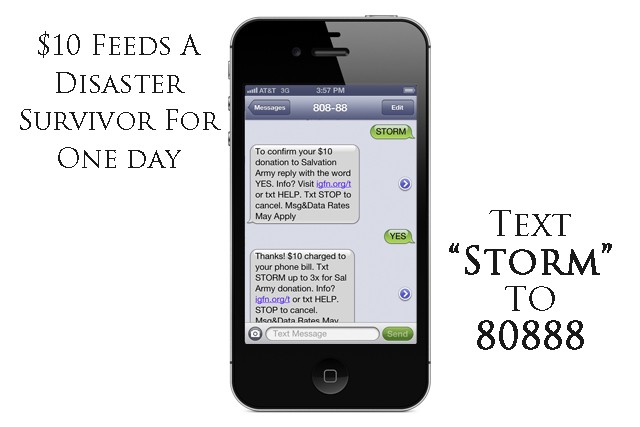 Tornadoes have slammed the town of Moore, Oklahoma. The need is high and unfortunately, the fatality rate is expected to rise. Salvation Army's Emergency Disaster Services (EDS) teams are on the ground and providing food, beverage, and spiritual support to survivors and first responders and surrounding impacted areas.
 The Salvation Army is so grateful for the enormous outpouring of support you've shown online and through your donations. Our Twitter and Facebook pages have been filled with your supportive comments and questions about ways to help. It is because of you that The Salvation Army is able to provide for these Oklahoma communities in need.
If you'd like to support The Salvation Army's relief efforts, you can donate:
Online, please visit: donate.salvationarmyusa.org or call 1-800-SAL-ARMY (1-800-725-2769).
By mobile phone: You can also text the word "STORM" to 80888 to make a $10 donation through your mobile phone; to confirm your gift, respond with the word "Yes."
Send it in the mail: Checks designated to "Oklahoma Tornado Relief" may also be mailed to: The Salvation Army PO Box 12600 Oklahoma City, OK 73157
Want to donate something other than money? 
Many have asked about donating in-kind items, such as clothes, toys, or furniture. At this point, in-kind donations are not being accepted for disaster relief as there are not suitable facilities to store these items, and manpower to sort and transfer them are also limited. However, these items are vital to supporting the day-to-day work of your local Salvation Army. Please consider giving these items to your local Salvation Army Family Store or dial 1-800-SA-TRUCK (1-800-728-7825).
Monetary gifts are flexible and portable, and they allow our disaster teams to purchase the exact supplies they need, when they need them, in the amounts they need them. This type of donation is vital in making sure we can continue our work in Moore.
How your donations make a difference:
A $10 donation feeds a disaster survivor for one day.
A $30 donation provides one food box, containing staple foods for a family of four, or one household cleanup kit, containing brooms, mops, buckets and other cleaning supplies
A $100 donation can serve snacks and drinks for 125 survivors and emergency personnel at the scene of a disaster
A $250 donation can provide one hot meal to 100 people or keep a hydration station operational for 24 hours
A $500 donation keeps a Salvation Army canteen (mobile feeding unit) fully operational for one day
Volunteer Information:
The Salvation Army recruits and deploys disaster workers through its local Salvation Army units. To register as a disaster worker:
Call your local Salvation Army.
Register online at www.disaster.salvationarmyusa.org
If you are a new volunteer, registering today, bear in mind that The Salvation Army deploys trained disaster workers already associated with The Salvation Army first.  A standard deployment is two weeks, including twelve working days and two travel days. For more information on ways to give or the latest updates, visit The Salvation Army's Emergency Disaster Services site at: www.disaster.salvationarmyusa.org
We thank you for your continuous prayers and support for these communities in need.
https://salvationarmysouth.org/wp-content/uploads/2013/05/d00bd6cea1aed082329384142569a37d.jpg
427
640
SalArmySouth
https://host1.salvationarmysouth.org/wp-content/uploads/2016/11/salarmy-logo-1.png
SalArmySouth
2013-05-21 17:05:01
2014-05-08 15:50:06
Disaster Relief in Moore, OK – Ways You Can Help