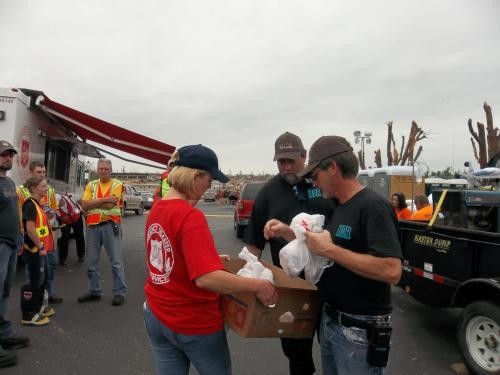 Post courtesy of Lt. Jamie Curry – Commanding Officer of The Salvation Army Joplin, Missouri Corps.
Today, the city of Joplin recognizes its second anniversary of the devastating tornado that ripped through the community. The loss of 161 lives leaves holes in our hearts and minds, but trees and memorials remind us that life will go on.
In the aftermath of destruction, The Salvation Army was a presence to dispense bottled water, food and spiritual support to those who were impacted by the storm. We too were affected with the complete loss of our Family Store and the income it brings to the social service programs of our Corps. How do you rebound from that sort of loss? How do we serve the community in the same ways without the resources we are familiar with using? You walk by faith.
In the past two years, the staff and Commanding Officers of the Joplin Corps have worked tirelessly withcommunity groups to create a Case Management program for disaster survivors. The goal was to get families back into stable housing and meet other areas of need. As of May 2013, the Case Management program finally closed its doors at The Salvation Army, after helping at least a few thousand families.
The Family Store was not only a great loss to The Salvation Army, but the community as well. Many regular shoppers and supporters of The Salvation Army have hoped and prayed for the reopening of a new store to replace the one destroyed by the tornado. As of January of 2012, the Family Store reopened in a temporary location, and plans were put into motion to purchase property closer to the current Corps building with room for growth and big ideas. As of May 2013, The Salvation Army of Joplin has obtained property to build a 17,000 square foot building in the heart of downtown Joplin.
We are coming back bigger and better for the community. The Salvation Army has never left the community, and as we celebrate The Salvation Army's 125th year serving Joplin, we hope to head into the future with Christ on our lips and love in our hearts and hands. We still walk by faith, but we have a purpose and a desire to seek to save the lost – even in the wake of devastation. We will continue to rebuild…both our community and the lives of its members.
https://salvationarmysouth.org/wp-content/uploads/2013/05/Joplin71.jpg
375
500
SalArmySouth
https://host1.salvationarmysouth.org/wp-content/uploads/2016/11/salarmy-logo-1.png
SalArmySouth
2013-05-22 13:06:51
2014-05-08 15:50:06
Remembering Joplin: 2 Years Later