One year ago, Hurricane Sandy pummeled the East Coast following a four-day northern trek, creating the deadliest and most destructive hurricane of the 2012 season. Affecting 24 states, the storm's force shattered communities, destroyed homes and businesses, shut down power for millions, and took over 100 lives.
A week before the strike, Emergency Disaster Services (EDS) crews of The Salvation Army were ramping up response efforts by feeding evacuees and developing search and rescue teams.
"We discovered then that our response needed to be more than the hot dog and a cup of coffee," says Brenda Beavers, State Director of Human Resources for The Salvation Army's New Jersey Division.


In the immediate aftermath of the storm, EDS canteens were dispatched to the hardest hit areas up and down the coast. With the help of staff and volunteers, meals, drinks, clothing, blankets and toiletries were distributed to victims and first responders. As part of a long-term recovery effort, the Army provided gift cards and in-kind products such as heaters, food, clothing, toys, diapers, linens, boots, and facemasks.
People had lost their homes, their memories, and things you simply can't replace.
But one year later, signs of recovery remain as residents along the Coast work to rebuild their lives through service organizations like The Salvation Army.
"The goal of our Disaster Case Management process is to provide support, advocacy and connect residents with as many possible resources available to them without adding additional work and confusion to their already challenging process," says Brenda Downing, Director of Social Services at The Salvation Army Southern New England.


These little helpers served with big smiles and brought joy to survivors in Connecticut.
Restoring normalcy in the lives of survivors is the Army's primary objective.
With the support of donors and partnering organizations, affected individuals and families are being met with financial assistance, rebuilding and repair costs, and in-depth case management to address unmet needs.
Homeowners like Ellen Levitsky are grateful for the support of The Salvation Army, which helped clean up her storm-ravaged home in Freeport, New York.
"I never thought anyone would come to help," Levitsky said. "I feel like I should be pinched. I'm so thankful for the help that The Salvation Army has provided, and how quickly."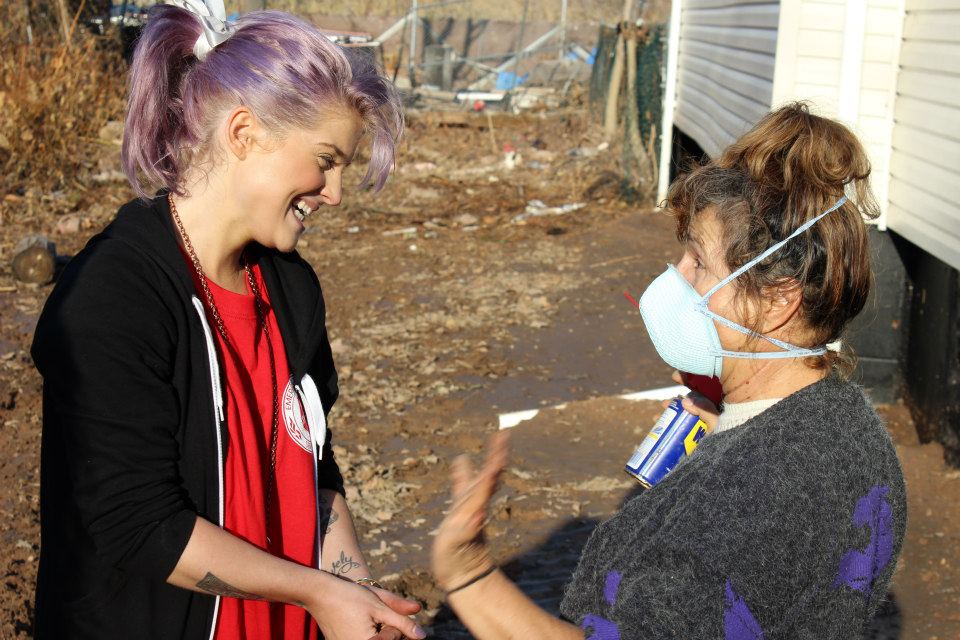 Kelly Osbourne assisting recovery efforts on Staten Island, NY.
But perhaps more importantly, survivors are finding comfort in the emotional and spiritual care offered through recovery centers and emotional support groups of The Salvation Army in New York and New Jersey.
"A lot of people have been hurting," says Bram Applin, Community Relations Director for the New Jersey Division. "They are asking, 'why did this happen?' Being able to simply pray with someone, hug someone, to be able to show the love of Christ in the little things – it's a privilege."
***
The Salvation Army is the first to arrive and the last to leave. Americans showed an outpouring of love and support for their East Coast neighbors in need, and their financial contributions are being used to provide ongoing assistance in all communities impacted by this disaster.
https://salvationarmysouth.org/wp-content/uploads/2013/10/402431_10151256658601591_869613542_n31.jpg
640
960
SalArmySouth
https://host1.salvationarmysouth.org/wp-content/uploads/2016/11/salarmy-logo-1.png
SalArmySouth
2013-10-29 09:16:43
2014-08-01 10:48:33
Hurricane Sandy: Signs of Recovery Continue One Year Later