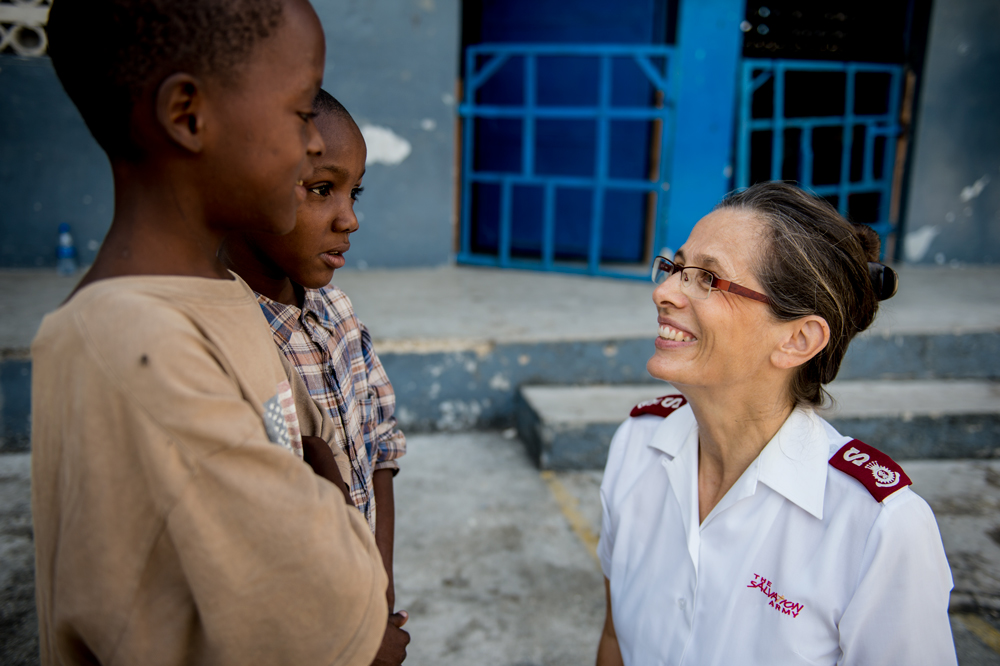 "'For I know the plans I have for you,' declares the Lord, 'plans to prosper you and not harm you, plans to give you hope and a future.'" (Jer. 29:11 NIV)
As we look back on the four years since the earthquake, we are keenly aware of and thankful for the Jeremiah 29:11 plans God has for The Salvation Army and the people it serves.
There are no doubts that the quake that hit Haiti on January 12, 2010 was devastating; the loss of hundreds of thousands of lives, more than one million people forced into shelters made of whatever could be salvaged, businesses and livelihoods lost and a nation trying to make sense of it. The Salvation Army was there; in the trenches, on the frontlines and not left untouched by the disaster. 8 million meals were served. 30,000 clinic visits were provided. Shelters were opened. Beds, cleaning kits, tarps, lights, and tents were distributed.
Following the devastation however, came a great opportunity to change the course of history for the Army and the country; to rebuild a stronger infrastructure with programs and institutions that address issues in an even more meaningful and sustainable way; to broaden its ministry.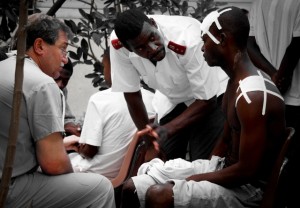 Because of its longstanding presence in the country, the Army was well-positioned to help, along with its partners, in some of the neediest areas in and around the capitol providing some 20,000 displaced people with food, pastoral care and some medical care in addition to networking with other international organizations to provide basic needs for families and individuals who settled on the soccer field just next door to the Army's Delmas 2 compound.
In  these four years, The Salvation Army in Haiti, joined by Salvation Army partners from around the world and other international donors, have made great strides not simply to help return communities to their pre-quake standard of living, but to create a new normal. The Army has worked to rebuild communities physically, emotionally and spiritually; transforming lives for lasting change.
Recovery & Development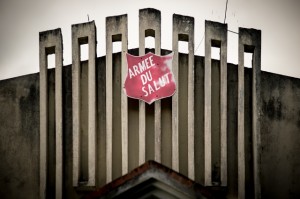 For 60 years, The Salvation Army has been a mainstay in the city of Port-au-Prince with the Delmas 2 compound, the headquarters and facilities site that was mostly destroyed in the quake. A new structure is in development which will include kindergarten, primary and secondary school buildings for College Verena, which is responsible for the education of more than 1,500 area children. A new corps building will soon seat 3,000, a social services building to house direct service programs and a new primary healthcare center to provide an updated facility for the self-supporting Delmas 2 clinic.
School infrastructure support includes the renovation and construction of some 25 schools damaged by the earthquake providing solid construction and reinforcement, adequate classroom space, latrines and water filtration systems at each location. To date, three new schools have been constructed, with four others in the works, four reservoirs constructed to capture water for filtration and the team is on track to finish the remaining school repairs in 2014.
Social and Emotional Support
More than 1,000 children and adolescents in eight earthquake-affected communities were counseled and offered life-skills through social, cultural and sport activities in three weekly meetings. The Army is now working to include sexual education in its school curriculum at three pilot sights as well as introducing parenting school at that location with the hopes of expanding them throughout the division.
Community Development
Integrated family support focuses on permanent housing, vocational training, livelihood support and agriculture with the goal of giving the most vulnerable populations the training and tools to build a better future. This project is well underway with nearly 900 individuals and families benefiting. Some 112 students have graduated with vocational training in plumbing, tiling, electricity, building construction and auto mechanics with more than 380 additional enrolled. Some have been placed in internships and found paying jobs.
***
A great deal has been accomplished with the help of so many. We're excited to see what has yet to come as the remaining schools and water systems on the infrastructure list are finished, more Community Action Teams undertake small projects, homes are rebuilt, livelihoods are increased, training is received and God uses the Army to change lives.
To support service efforts in Haiti, please consider donating to The Salvation Army World Service Office at  https://give.salvationarmyusa.org/SAWSO. To learn more, visit http://salvationarmyhaiti.org/.
***
Information contained in this article was provided by Kara Langford, Communications Officer at The Salvation Army Haiti Recovery & Development Office. 
https://salvationarmysouth.org/wp-content/uploads/2014/01/haiti.png
400
940
SalArmySouth
https://host1.salvationarmysouth.org/wp-content/uploads/2016/11/salarmy-logo-1.png
SalArmySouth
2014-01-12 06:00:34
2014-08-01 10:46:39
Haiti Four Years Later: Encouraged by Progress and Hopeful for the Future