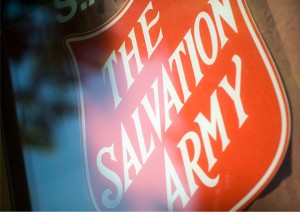 FORT MYERS, Fla. – Temperatures are dropping into the 30s tonight. While that's uncomfortable for most in Florida, it can be downright dangerous for people who don't have homes. WINK News spent some time at the Salvation Army. It's just one place that's making sure everyone has a hot meal and safe place to sleep.
Children and their parents, seniors and war vets all stopped by the Salvation Army in Fort Myers. "We're staying at the shelter and they're helping us," a child named Brandon said with the help of his mother.
When temperatures drop below 40 degrees, the shelter opens to everyone. "They would be out in the freezing cold. They would have no other place to go," Russell Rieder with the Salvation Army said.
"I'm blessed to be able to come into a place and have a bed to sleep in tonight and have a warm meal. It's awesome," Clint Seagle said.
But, not everyone chooses to stay. Some eat, bundle up with donated coats, gloves and hats and head back outside. "Under a bridge, in a car," Rieder explained.
"That's the tough part is to see people go back out and not know where they are going to put their head down at night," volunteer Chris Brodd said.
According to the Lee County Homeless Coalition, more than 2,800 people are homeless. The Lee County School Board says about 1,400 of them are children.
"We, unfortunately, lost our apartment and had to come here on an emergency basis," Jessica Merkaj said. "It's not easy, especially when you have a kid."
But, even the youngest guest can understand and be grateful for the basics in life: a meal, a jacket and a bed.
They still need plenty of jackets, hats and blankets for the next cold snap. As tax season approaches, remember, if you itemize deductions, you can write off your donations. See our Donation Value Guide
visit: www.salvationarmyfortmyers.org
Source: winknews.com
https://salvationarmysouth.org/wp-content/uploads/2013/02/tsa.jpg
679
960
SalArmySouth
https://host1.salvationarmysouth.org/wp-content/uploads/2016/11/salarmy-logo-1.png
SalArmySouth
2014-01-23 09:32:02
2016-07-08 09:11:54
Cold weather shelters open as temperatures drop