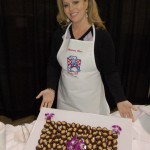 More than 400 people at the Prime Osborn Convention Center sampled cuisine served by notable locals Thursday at the 28th annual Celebrity Chefs Tasting Luncheon and Silent Auction.
The event was founded in 1987 by the Salvation Army Women's Auxiliary as a way to publicize the services provided in Northeast Florida by the Salvation Army and to encourage people to volunteer their time and financial support. Attendance and participation by volunteers has grown each year.
"It has just been awesome," said Rita Joost, one of the event's founders.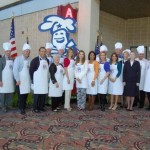 Each year, local business leaders, media personalities and other celebrities share their favorite recipes and serve them to guests.
Proceeds from tickets sales and a silent auction of donated items benefit several local Salvation Army programs, including the Child Development Center. Funds raised provide scholarships for homeless children, homework, tutoring and help provide playground equipment.
At the Towers Memorial Social Services Center, proceeds benefit the Family Self-sufficiency Fund, provide laundry services, clothing for holiday Angel Tree bags and furniture vouchers.
Funds raised also support services provided at the adult rehabilitation center and the Salvation Army senior center.
By Max Marbut, Staff Writer
https://salvationarmysouth.org/wp-content/uploads/2014/03/1394805617Celeb127.jpg
812
540
SalArmySouth
https://host1.salvationarmysouth.org/wp-content/uploads/2016/11/salarmy-logo-1.png
SalArmySouth
2014-03-14 14:37:15
2016-07-08 09:11:54
Celebrities serve lunch for Salvation Army