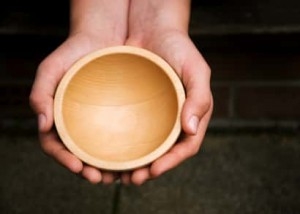 Sometimes it's easy to forget, so some people tie a string around their fingers to remind them of something they are supposed to do or somewhere they are supposed to go.
If Kim May, director of the Pike County Salvation Army Service Center, could tie a string around 32,000 fingers to remind people of the Salvation Army's Empty Bowls Luncheon on April 17 she would.
The annual Empty Bowls Luncheon is the Salvation Army's second largest fundraiser behind the Red Kettle Campaign.
"The Empty Bowls Luncheon is an important fundraiser because the funds raised benefit our food bank," May said. "Every day, we serve those who are in need of food for different reasons. Many of our requests for food come from elderly people who are living on fixed incomes. They often have to choose between buying food and having their prescriptions filled or refilled. They usually choose their medicines."
May said when the weather is unusually cold or hot and utility bills skyrocket, requests for food increases.
"There's not a day that goes by that we don't have requests for assistance with food,' she said. "We always need money to purchase items that are not readily donated, especially proteins and dry milk."
May said the Empty Bowls Luncheon, not only supports the Salvation Army Food Bank; it's also an art project and a social gathering.
"The funds from the Empty Bowls Luncheon feed the hungry in our community," May said. "The luncheon is a gathering place for the community and there's a wide selection of homemade soups, chilies and stews. Retired chef Ron Case always makes his famous Tortellini soup and Donna McLaney makes her award-winning chili. Local restaurants bring their specialty soups. You won't find a better or wider selection of 'bowl meals' anywhere."
Tickets for the Empty Bowls Luncheon are $20 and each ticket holder gets to take home a handmade bowl from a selection of about 150.
"This year, we'll have bowls made by Larry Percy's ceramics classes at Troy University and art students at Pike County High School and Pike Liberal Arts School," May said. "The Global Studies class made bowls also."
Leadership Pike participants and employees at First National Bank and Army Aviation made bowls for the Empty Bowls Luncheon.
"We have some beautiful bowls and some very unique bowls. They are all one of a kind," May said. "The earlier you come to the luncheon, the greater your choice of bowls. So, we encourage everyone to come early and select a bowl and then enjoy a soup lunch and the fellowship of friends."
The Empty Bowls Luncheon will be from 11 a.m. until 2 p.m. at the Bush Memorial Baptist Church Fellowship Hall. Bush Memorial is located on George Wallace Drive in Troy.
By: Jaine Treadwell
https://salvationarmysouth.org/wp-content/uploads/2015/03/1d7aff83abc2fe4da0b7e028c5b131d8.jpg
293
410
SalArmySouth
https://host1.salvationarmysouth.org/wp-content/uploads/2016/11/salarmy-logo-1.png
SalArmySouth
2015-03-27 08:21:33
2016-07-08 09:10:27
Salvation Army's 'Empty Bowls' feed the hungry