June 06, 2013 – 4:51 PM EDT
Krachel Greenwood
krachel_greenwood@usc.salvationarmy.org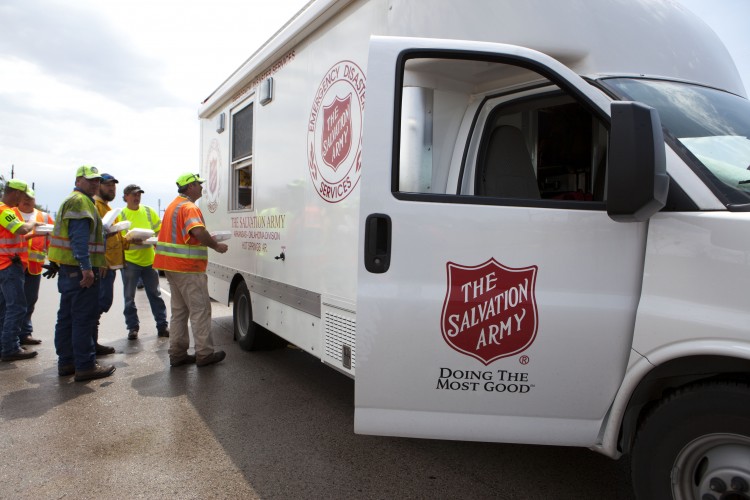 A Salvation Army Emergency Disaster Services (EDS) canteen is a mobile kitchen, a "free" store on wheels, a light in the darkness for a disaster victim or a first responder looking for some renewed strength and energy during a troubling time.
Since tornadoes first touched down in Oklahoma on May 19th, 2013, The Salvation Army has provided 51,000 meals, 74,000 drinks, and 69,000 snacks from a total of 22 canteens. It's a feat that couldn't be accomplished without the help of volunteers.
Chris Fineout, the Canteen Coordinator, traveled to Oklahoma from Yankeetown, Florida. He begins his morning by gathering all canteen drivers and debriefing before deploying. Some canteens park in a designated area and serve crowds in populated places, providing a "fixed feeding site." Others roam a specific area, providing "roving feedings" and aiding those across the Oklahoma countryside.
"We'll have 12 canteens out today," he explains, "with 36 volunteers divided among them."
Supplies are counted and loaded. Lt. Maxie DeBlanc, from Houston, and volunteer James "Jim" Brown of Kingston, Ohio, discuss strategy before pulling out. For Lt. DeBlanc, the call to serve on an EDS team came at a time when she was feeling down.
"I came here broken, but I've learned to say 'yes' to God," she said. "In ministering to others after Friday night's latest round of storms, I have been ministered to myself. And when I go home, I go home knowing there is a God who loves me." 
Volunteer Jim Brown calls this trip a vacation. Now retired, when he heard of the need for help in Oklahoma, he cleared his calendar for two weeks and headed south.
At the next canteen down, Robert Mattingly, who hails from Ponca City, Okla., loads a set of cambros into his assigned Canteen. A cambro is an insulated box that can keep hot food hot or cold food cold for 8 hours. At 10 pounds each when they're empty, these containers are the real deal.
"We can put approximately 150 meals in one cambro," explains Capt. James Spencer, Oklahoma EDS Operations Chief. Several cambros are placed on each canteen, separating the main dish of meat or stew from side dishes usually consisting of veggies. A fruit bowl or pudding cup makes a warm meal complete.
 
Today Fineout asks crews to take more meals than they took yesterday. With continued flooding in the area and power lines still down, many remain in need of a warm meal and fresh drink of water.
Fineout understands firsthand: "I've been involved with The Army since I was 14 years old. I have been the person getting a meal as opposed to giving," he says. "This is the least I can do to help."
https://salvationarmysouth.org/wp-content/uploads/2013/06/f66235104ee3316ed2057d1ad892dd881.jpg
500
750
SalArmySouth
https://host1.salvationarmysouth.org/wp-content/uploads/2016/11/salarmy-logo-1.png
SalArmySouth
2013-06-06 16:51:00
2014-08-01 10:51:09
Soldiers on Wheels