November Tornadoes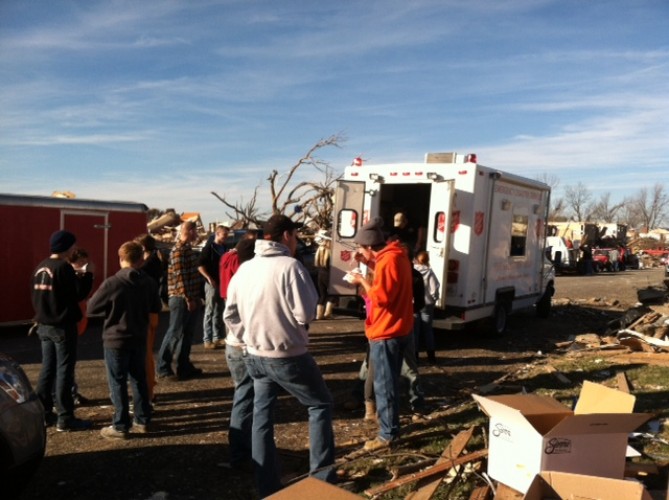 Des Plaines, Illinois (November 20, 2013) – Across Illinois and Indiana, as damage assessments are being completed, The Salvation Army continues to serve thousands who were affected by severe weather throughout the Midwestern US on Sunday, November 17. As state and local governments took action following the initial confusion that accompanies any disaster, The Salvation Army's role in the response and recovery operations has become well defined.
Central Illinois – In Central Illinois, most of the damage was centered on Washington, Illinois, and it's now clear that this area will demand the most attention from The Salvation Army. The unprecedented November F-4 tornado destroyed or damaged thousands of homes in Washington and adjoining areas of Tazewell County. Nearby volunteers from the Crossroads United Methodist Church quickly made their facility available to the community, and began feeding others through their church kitchen.
The church quickly became the de facto center of operations, and The Salvation Army has worked with the church to help feed thousands of displaced persons and first responders in the days since the tornado. Using five mobile kitchens (canteens), Salvation Army EDS volunteers have fed between 1,500 and 3,000 people daily.
Beginning Friday, The Salvation Army will take full responsibility for all feeding operations at the church, and five more canteens will arrive on scene to expand feeding into outlying areas. Salvation Army volunteers, employees and officers from neighboring states of Iowa, Indiana and Minnesota are en route or already on duty as operations here ramp up. The church has also asked The Salvation Army to provide Emotional and Spiritual Care (ESC) training to members who wish to serve their neighbors, and on-site training is now scheduled.
It was late Tuesday before the Illinois National Guard allowed Washington residents into their neighborhoods to begin sifting through belongings and start the recovery process. Salvation Army canteens, staffed with ESC officers, were available and assisted many during this stressful time.The Heartland Division (The Salvation Army in Central Illinois and Eastern Iowa) is working with the American Red Cross and other relief organizations to establish a Multi-Agency Resource Center (MARC). This will be a "one stop" center where survivors can receive all services available from the many agencies there to help.
Southern Illinois – Efforts continue in Brookport, Illinois, where 3 fatalities occurred due to a separate tornado. This town of 1,500 people suffered extensive damage with more than 200 homes damaged—nearly 100 of those are a total loss. Brookport is still under curfew from 6:00 PM—6:00AM daily. A canteen has been on station there since Sunday and has been staffed by volunteers from the Saint Louis, MO area and from the Kentucky and Tennessee division of the USA Southern Territory.
The Salvation Army also made plastic tarps available to residents who wished to cover storm damaged roofs and walls until permanent repairs can be made. The Home Depot Corporation and Walmart have been very helpful, providing materials and food for use by the Salvation Army team in Brookport.
Indiana – In Indiana, services continued in the city of Washington, Fountain City and Kokomo, Indiana. Canteens from New Albany and Indianapolis have joined the efforts in these cities. In Indiana, the town of Washington was also the most heavily damaged, and hundreds of meals have been served there since operations began on Sunday. Plans are in place to offer Individual Assistance casework to survivors in the coming weeks.
Metropolitan Chicago – In the Metro Chicago area damage was intense, but not widespread, and was confined to a primarily industrial area. Canteen services were discontinued early Wednesday, after providing hundreds of incidences of nourishment, hydration and spiritual and emotional care over three days.
How to HelpThe best way to help The Salvation Army serve those affected by this storm is make a monetary contribution.
Online:Give online at http://donate.salvationarmyusa.org/usc/2013-storms
By Phone:Call 1-800-SAL-ARMY [1-800-725-2769]
By Mail:To donate via mail, please send your check, designated "November Tornadoes" to: ATTN: NOVEMBER TORNADOES THE SALVATION ARMY10 W ALGONQUIN ROADDES PLAINES, IL 60016-6000
Text to give:Text STORM to 80888 and reply YES to confirm your donation*.
Terms and conditions:*A one-time donation of $10 will be added to your mobile phone bill or deducted from your prepaid balance. Message and Data Rates May Apply. All charges are billed by and payable to your mobile service provider. Service is available on Verizon Wireless, AT&T, Sprint, and T-Mobile. All purchases must be authorized by account holder. By participating you certify that you are 18 yrs or older and/or have parental permission. Donations are collected for the benefit of The Salvation Army by Innogive Foundation and subject to the terms found at igfn.org/t. Privacy policy: igfn.org/p. Text STOP to 80888 to stop; Text HELP to specify 80888 for help.
Donations of Household Good and Clothing: Due to the emergency situation, The Salvation Army cannot guarantee that any individual donations of household goods or clothing (gifts-in-kind) will be sent to the disaster area. In times of disaster, our stores fill these needs from existing, pre-sorted stock. PLEASE continue to donate gently-used household goods to your local Salvation Army store. You will help your community and help us prepare for future disaster relief needs. To find your nearest drop-off location, please go to www.satruck.org.
NEW CONTACT INFORMATION: Companies who wish to donate emergency supplies in bulk: Please contact Cheri Muller at The Salvation Army's Heartland Divisional HQ in Peoria at (309) 655-7220 or cheri_mulller@usc.salvationarmy.org.  Cheri will work with you to determine suitability of donation, our capacity to use it, and where it should be delivered.
About The Salvation ArmyThe Salvation Army, an evangelical part of the universal Christian church established in London in 1865, has been supporting those in need in His name without discrimination for more than 130 years in the United States. Nearly 30 million Americans receive assistance from The Salvation Army each year through the broadest array of social services that range from providing food for the hungry, relief for disaster victims, assistance for the disabled, outreach to the elderly and ill, clothing and shelter to the homeless and opportunities for underprivileged children. 82 cents of every dollar The Salvation Army spends is used to support those services in 5,000 communities nationwide. For more information, go to www.salvationarmyusa.org.
###
https://salvationarmysouth.org/wp-content/uploads/2013/11/c6fb6e1a3c28b8ab27fed792e9f230ab.jpg
500
669
SalArmySouth
https://host1.salvationarmysouth.org/wp-content/uploads/2016/11/salarmy-logo-1.png
SalArmySouth
2013-11-20 20:52:00
2014-08-01 10:47:47
Salvation Army Efforts Intensified in Tornado Damaged Midwestern Cities