We are just past  the 24 hour mark of our World Record Bell Ringing contest and four bell ringers are still ringing strong!
This contest raises awareness for The Salvation Army's 123rd annual Red Kettle Campaign while posing an exciting opportunity to set a new world record.
Contestant Andre Thompson of Tyler. TX is still up and going outside in front of Walgreens. He's very motivated and physically still feels great!
Sprits are looking good so far, "I love this! My body is really holding up well", says contestant Andre Thompson of Tyler, TX.  "I think the record is mine. I can do all things through Christ who strengthens me! In the end it's mind over matter!"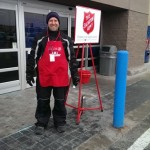 Lt. Rob Lawler in Helena, MT is still smiling while ringing in NINE degree whether. Brr!
Captain Emily Jones of Compton, CA was the first to hang up her bell around 9:00 p.m  PT. She was ringing outside Walgreens.  The next contestant to lay down his bell was Quinton Green at 4:15 a.m PT. He was ringing outside of Walmart in Hanford, CA.
We thank Captain Jones and Quinton for their valiant effort raising awareness for The Salvation Army!
Captain James Brickson is bringing joy at Northbridge Mall in Albert Lea. MN.
We are grateful for each of our participants. Their incredible effort will help The Salvation Army provide assistance to millions in need this Christmas and all year round.  So thank you!
Join in the conversation and support these volunteers with #Ringiton on Twitter.
And don't' forget to check back here for updates! Visit: www.Facebook.com/SalvationArmyUSA and www.Twitter.com/SalvationArmyUS for all updates.
Keep up the great work!
Posted by Jackie on Wednesday, December 4, 2013 ·
https://salvationarmysouth.org/wp-content/uploads/2013/12/Andre-12-4-24hr.jpg
480
640
SalArmySouth
https://host1.salvationarmysouth.org/wp-content/uploads/2016/11/salarmy-logo-1.png
SalArmySouth
2013-12-04 15:18:38
2014-08-01 10:47:45
Day One Down & Four Remain For World Record!